According to its mandate, the Nipissing University and Canadore College Archives and Special Collections (NUCCASC) selectively acquires, preserves, and makes accessible records that have enduring significance to the history of: 
North Bay and area (including the records of local individuals, families, businesses, and organizations)
Nipissing University
Canadore College
North Bay Normal School / North Bay Teachers College
The Archives holds records in all formats, including textual records (correspondence, reports, minutes, etc.), audiovisual records (photographs, audio and video recordings), architectural drawings, m
aps, d
igital records, and a
rtwork. Special collections contain publications including rare books, 
theses, dissertations, 
faculty publications, 
as well as
books and pamphlets relating to local history and the environment.
---
Access
The Archives is open to everyone, not just the students and faculty of Nipissing University and Canadore College. To access the Archives please make an appointment in advance (see contact information below) so that Archives staff can prepare for your visit and will be available to help you. Researchers should familiarize themselves with the Reading Room Rules.
---
Search the holdings
Archival holdings can be searched online via the Archives' online descriptive database, which is powered by ICA-AtoM software. Publications in special collections can be searched for in the library's catalogue (location will be listed as "Archives").
New to archival research? Check out the Guide to Archival Arrangement and Description and the Archival Citation Guide.
---
Donations
The Archives only accepts donations of archival materials (textual records, photographs, maps, architectural plans, etc.) that the Manager decides fit the 
Acquisition Policy
 and will support the Archives' 
mandate
. If you are interested in making a donation, please contact us.
Nipissing University and Canadore College Archives and Special Collections
Room L112, Main Floor, Harris Learning Library
100 College Drive, North Bay, ON P1B 8L7
Ed Driedger - Manager, Archives & Access Services
705-474-3450 ext. 4545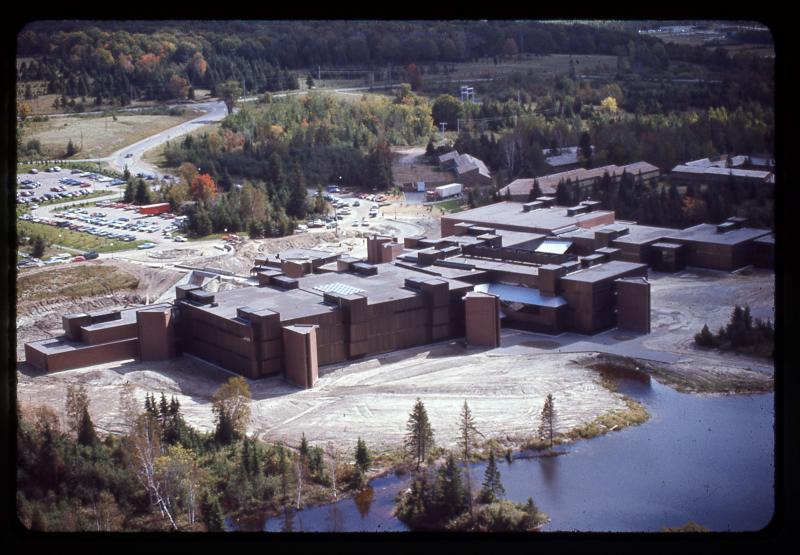 Aerial view of the newly-completed College Education Centre in North Bay, ON, circa 1971.
Photo ID: OIMC-003-003-008